WALLSTREET FOREX ROBOT 2.0 EVOLUTION BROKER SPY MODULE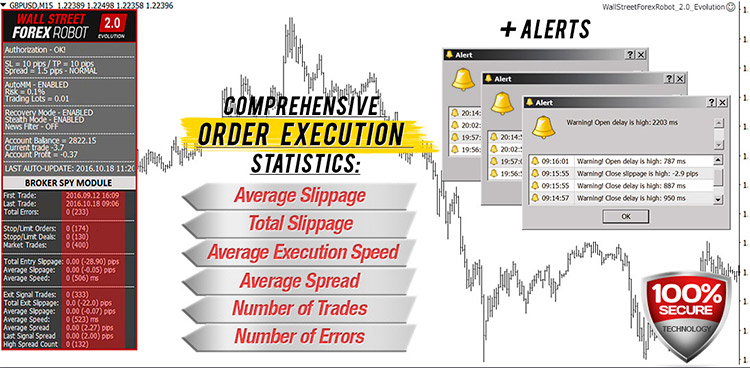 WallStreet Forex Robot 2.0 Evolution can produce REAL profit, not just backtest profit.
We all know how difficult it is to turn a strategy that works well in tests into a strategy that should bring profit in real life. It is not enough for an expert advisor to do well in back tests for one to be certain of success. An expert advisor is only good when it makes profit and earns real money.
WallStreet Forex Robot 2.0 Evolution is an expert advisor that was tested on Live Real-Money Accounts BEFORE release. Ever since the first time it was attached to a real money chart, it has had the benefit of multiple improvements and modifications that make it one of the best robots on the forex market today.
TRADING PRINCIPLES & TRANSACTION MECHANICS THAT FORM THE BASIS OF WALLSTREET FOREX ROBOT 2.0 EVOLUTION
As we mentioned, the basic principles include the low-risk accumulation of minor, yet highly probable, profits while following short and medium-term trends.
This does not mean that WallStreet Forex Robot 2.0 Evolution is a mere scalper hoping to win a pip or two per transaction and whom every broker would ignore.
The average amount of winning WallStreet Forex Robot 2.0 Evolution transactions is in the order of 10 to 15 pips: something no broker would qualify as aggressive scalping.
This means that another great benefit of WallStreet Forex Robot 2.0 Evolution is that you can use it successfully with any MetaTrader4-based broker without worrying that spread widening would erode your profit, or that the broker would blacklist you as a damaging scalper.
WallStreet Forex Robot 2.0 Evolution is an absolutely legal product which does not harm brokers in any way, rather: any broker would be happy to see you trading large volumes with him using WallStreet Forex Robot 2.0 Evolution.
Another great benefit of WallStreet Forex Robot 2.0 Evolution is that it was designed especially for the most liquid, narrowest spread currency pairs: EURUSD, GBPUSD, USDJPY, USDCHF, USDCAD, NZDUSD and AUDUSD.
The spreads of these currency pairs are most steady, even with floating-spread brokers, which means that you can profit consistently without worrying that the best and potentially most profitable signals might fail to be followed-through through the broker deciding just then to widen your spread.
Despite the spreads in these three leading currency pairs are usually in the 1 to 3 pips range, WallStreet Forex Robot 2.0 Evolution has an in-built HIGH SPREAD PROTECTION SYSTEM, which protects you from surprising losses at moments of very high market volatility.
Another unique feature about WallStreet Forex Robot 2.0 Evolution is the built in BROKER PROTECTION SYSTEM. It is common knowledge that many Metatrader brokers trade against their clients and together with things like high spreads, offquote errors and slippage it has become very difficult for a trading robot to consistently make a profit. WallStreet Forex Robot 2.0 Evolution has one of the best released broker protection systems.
WALLSTREET FOREX ROBOT 2.0 EVOLUTION BENEFITS
10 minutes to start making profits
Automatic 4/5 Digit Broker Detection
BUILT-IN SYSTEMS (ALGORITHMS) IN WALLSTREET FOREX ROBOT 2.0 EVOLUTION
Broker SPY Module
We've designed a first of its kind "Broker Spy Module". We spent over 2000 hours in developing and refining this powerful tool with one primary goal – to protect your capital and you from unethical brokers: cheating you with high negative slippage, high spreads or delayed order execution. Now you will be able to monitor every minute whether your broker is stealing from you.
Profit Protection System
It is disappointing to have to close a position which has made good profits in the past at a loss, or worse — when it hits a stop.
We know just how disappointing this is. This is why we protect each WallStreet Forex Robot 2.0 Evolution position with a near-stop level that guarantees minimum profit immediately it becomes possible. Alongside this, a special algorithm monitors optimum closure of each position turning a profit.
Broker Protection System
This built-in system conceals your stop levels from unfair brokers who trade against their clients.
If you choose to use this option, stop levels are executed within the WallStreet Forex Robot 2.0 Evolution program logic and remain invisible to brokers. This means that you have double protection: against unforeseen loss, and against unfair brokers.
WallStreet Forex Robot 2.0 Evolution employs a Stealth Mode to protect against broker stop hunting. In Stealth Mode, stop loss and take profit levels are not displayed to the broker. An emergency stop loss is placed with the broker to protect the trade against disconnection, but the Stealth Mode stop loss will be reached before the emergency stop loss.
High-Spread Protection System
This protection guards you against transactions at times when your broker has broadened the spread above levels acceptable to you. This is most important, for high pay spreads are among the basic reasons why your trade can turn-in a loss.
High-Slippage Protection System
This protection defends you from entering positions at prices which are too unfavorable for you in times of high market volatility, or when your broker may attempt to steal additional pips from you.
Advanced Money Management
Alongside standard options allowing you to use fixed volumes chosen by you in each deal and standard risk management with proportional lot growth, WallStreet Forex Robot 2.0 Evolution has a unique built-in algorithm which allows you to activate effective current drawdown compensation.
TOP FEATURES:
Operates with any MT4 broker, ECN included
Comes with revolutionary Broker SPY Module
Trades MICRO, mini, and standard
Operates with 4 and 5 digits after the decimal point
Operates with any NFA regulated broker
Comes with an Advanced Money Management system
Comes with 5 intelligent built-in protection system
24/7 Support
PURCHASE INCLUDES:
1 Real Account
Unlimited Demo Accounts
The Best in Forex Industry (24/7) Support
60-Day 100% MONEY-BACK Guarantee
BONUS #1: WallStreet Asia
BONUS #2: WallStreet Recovery Pro
BONUS #3: WallStreet GOLD Trader
REFUND POLICY
100 % Money Back Guarantee
You have all of 60 Days (enough to see how profitable this automated forex software is) to see if it is right for you.